Keeping a clutter of things all-around your home makes it look suffocated. So, it's time to wipe off all the clutter and start decorating your home with a minimalistic approach. Remember, peace comes in your home and mind from a simple living style. Instead of keeping heavy furniture and decorative items everywhere, take a step toward change and design your home simply yet meaningfully.
Table of Contents
First thing first- Why to Opt for Minimalist home Design
How to decorate your home with Minimalist design
Focus on Minimal Interior Items and Furniture
Smart Storage Space is What You Need the Most
---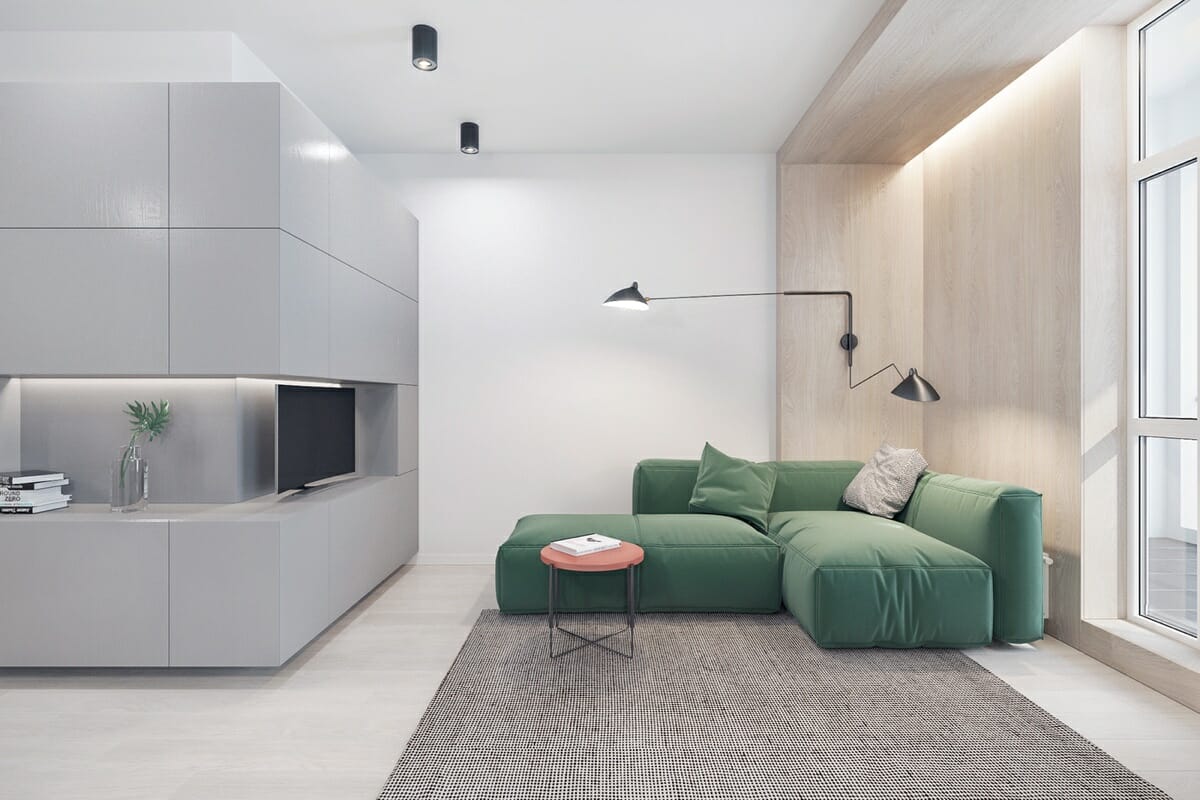 First thing first- Why to Opt for Minimalist home Design
Unlock some reasons below.
It's Trendy
As soon as you tap on Instagram or Pinterest, you can check tons of boards and feeds where people share their minimalistic living room and bedroom designs. People are adopting simple lifestyles, and thus, they share pictures where they move all the clutter out and keep a few things.
So, if you are going with a minimalist home design approach, simply you are going with the wind of Home trends 2020.
It's Healthy
People are becoming quite serious about their health. Fitness and organic food blogs are prospering overnight. When it comes to home, a common belief is that a minimalistic home creates a healthy living environment. Having less clutter around you makes you focus better on a task at hand. Whether it's your home or office, the less clutter is, the better.
You can concentrate more on your diet, exercise, and daily routine in a clean and clear environment. A clutter-free environment means less dust and toxin build up around you. Therefore you can enjoy a good night's sleep in a tidy place. The best of all, this kind of home design will reduce stress levels and make you live a care-free manner.
Attractive Look
Everyone wants to live in a home that is welcoming and super-appealing. You can boost your home's visual by keeping only the most important and prized possession as decorative items while wiping away all the clutter.
Easy to Clean
If you are a person who doesn't have much time to clean up every single thing in your home every day, then the minimalist home design will be the best idea for you. Less is more in this design, so you keep less things out, and thus you have to deal with less dusty surfaces and items. You can easily keep up with this kind of system as a few things mean less time spent cleaning your home. Learn to do Kitchen Remodeling on Budget
How to decorate your home with Minimalist design
Here are some points to keep in mind while decorating a minimalistic home.
Focus on Minimal Interior Items and Furniture
Everything in your room must follow a minimalistic style. For this purpose, you need to ask yourself
What will stay in this room? And what can be stored?
In simple words – keep only the most essential items and get rid of useless things.
It doesn't mean throwing out less important things and pieces. You can store these things in smart cupboards and storage spaces.
You need to rearrange every room in your home. Replacing big furniture with compact one and giving up on meaningless side tables is something you need to do.
Must READ - Should You Invest your Money in a School-Adjacent Home or not?
If you have three family members, a dining table for four is more than enough.
A full-size coffee table can be replaced with a stylish standard size one. It would be best if you kept in mind the RULE – LESS IS MORE.
Smart Storage Space is What You Need the Most
In every minimalistic home, you don't see a mess on the surface or tables. It's because all those things find their new homes in cupboards or storage boxes. It would be best if you put fewer items on the show. In case you are adding a storage section in a room, be smart about it. Add this section so that it stays in the place, but no one can notice it at first.
Make sure there are no stacks of magazines or papers on any surface. Your home must have a breathing space for every little thing.
Play with Neutral Shades
Your home wall doesn't need dark shades and paints instead;, you should try coloring them with neutral colors like peach, beige, white, etc. These shades add a cleanliness factor in every space. When it comes to selecting your furniture, you need to either create contrast or get a monochromatic look – where peach walls go well with a creamy sofa set. Find a way to protect your home from Fire Hazards
Minimalist Wall Decor
As far as wall décor is concerned, you need to keep minimal artwork on the show. Your decorative items must have clean lines and clear texture. If you are not sure what to buy for decoration of your minimalistic home, then you can shop minimalistic paintings or decorative pieces- widely available in the market. So you can eliminate the guess factor and go with them.
Say YES to Quality Interior
Minimalistic means less quantity of décor items. However, it would help if you kept in mind that this style is the ultimate advocate of the quality interior. It means you need to prefer quality products. Don't go with standard designs, be choosy, and pick something unique and classy.
You can buy an antique piece and set it on your fireplace shade to enhance your living area's overall value.